JUNGLÜCK
Regular price
Sale price
€35,00EUR
Unit price
per
Sale
Sold out
De Junglueck Hyaluron Concentraat hydrateert de huid intensief en helpt andere werkstoffen direct naar de diepere huidlagen door te voeren.

Hyaluronzuur (HA) is van nature aanwezig in onze huid, maar door invloeden van buitenaf zoals vervuiling, UV-straling en normale veroudering neemt de natuurlijke productie af. Om het vochtgehalte weer in balans te brengen, gebruiken we 1,4% Hyaluronzuur met drie verschillende molecuulgrootte (hoog-, middel- en laag-moleculair) in ons Hyaluron Concentraat. Kleinere moleculen dringen dieper door in de huid en behouden vocht beter.

De kleinere moleculen zorgen voor langdurige hydratatie in de diepere huidlagen, terwijl de grootste moleculen (hoog-moleculair) een vochtboost geven aan de bovenste huidlaag, waardoor je huid gaat stralen. Samen met aloë vera vult het Hyaluronzuur geleidelijk fijne lijntjes en rimpeltjes op.

Gebruik de Junglueck Hyaluron Concentraat regelmatig, aangezien je huid altijd blij is met extra hydratatie. Combineer het bij voorkeur met een serum in je routine, zodat het andere actieve ingrediënten naar de diepere huidlagen kan transporteren.

____

🇬🇧 Hyaluronic acid (HA) is a natural skin component. Due to factors like pollution, UV exposure, and aging, skin HA production diminishes, impacting moisture regulation. Junglueck Hyaluronic Concentrate contains 1.4% HA with three molecule sizes for varied skin penetration. Smaller molecules reach deeper layers, storing water effectively. Pentylene glycol counters bacteria, providing extra moisture. Aloe vera soothes inflammation, enhancing tone and elasticity. This diminishes fine lines, rendering skin firmer and smoother.

SKINTYPE

Balanced skin
Combination skin
Dry skin
Oily skin
HOW TO USE

The guideline is cleanse, apply concentrate/serum, then cream – progressing from thin to thick consistency. The Hyaluronic Concentrate works excellently as a base under your day or night care routine. A small amount (around 1 pump) is enough for your face. Gently massage it in with your fingertips, allowing thorough absorption.

Note: Allow your skin time to absorb the product to prevent any uncomfortable residue and ensure complete absorption.

Top tip:
Mix the Hyaluronic Concentrate with your day cream in your hands. It streamlines two steps, making the start to the day more relaxed.
FAQS

How much hyaluronic acid is in the Junglueck Hyaluron Concentrate?
The concentrate contains 1.4% hyaluronic acid.

Can I use it in the evening?
Absolutely, you can apply the hyaluronic concentrate in the evening. In fact, it's recommended, especially for long nights. For bedtime, we recommend Junglueck Vitamin C or Retinol serums.

What if the Hyaluron Concentrate crumbles on my skin?
If the concentrate crumbles during application, you might have used a bit too much. Just a small amount (about one pump) covers the entire face. Let it absorb briefly before applying more products.

What forms of hyaluronic acid are in Junglück's Hyaluron Concentrate?
This concentrate combines low, medium, and high molecular weight hyaluronic acids for optimal moisture absorption. Here's the distribution:
Sodium Hyaluronate Low: approx. 14%
Sodium Hyaluronate LW: approx. 57%
Sodium Hyaluronate MW: approx. 29%
INGREDIENTS

PENTYLENE GLYCOL - Plant-based moisturizer - preservative effect

GLYCERIN - Plant-based moisturizer - humectant

SODIUM HYALURONATE - Hyaluronic acid - moisturizing, supports skin resilience

SODIUM CITRATE - stabilizes pH-value

CITRIC ACID - Citric Acid - stabilizes pH-value
SHIPPING

⚡ This is a PRE ORDER. Will begin shipping LATE NOVEMBER.
Heads up! Buy this product now and all items in your order will ship all in once.
View full details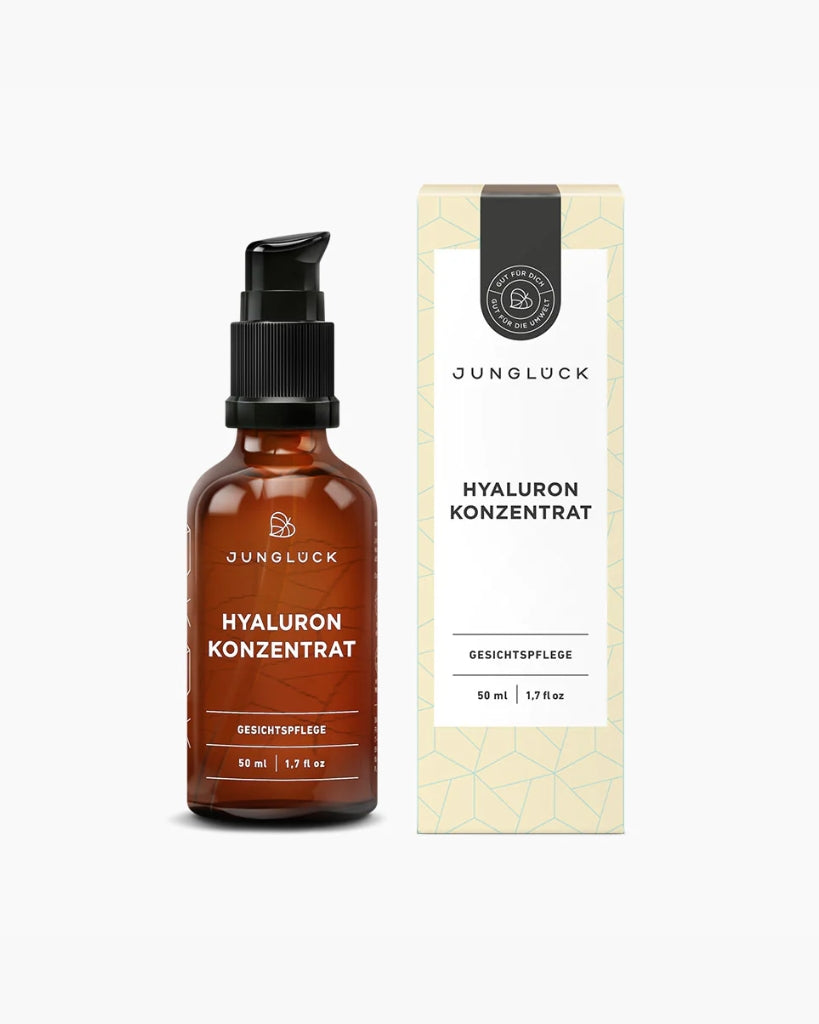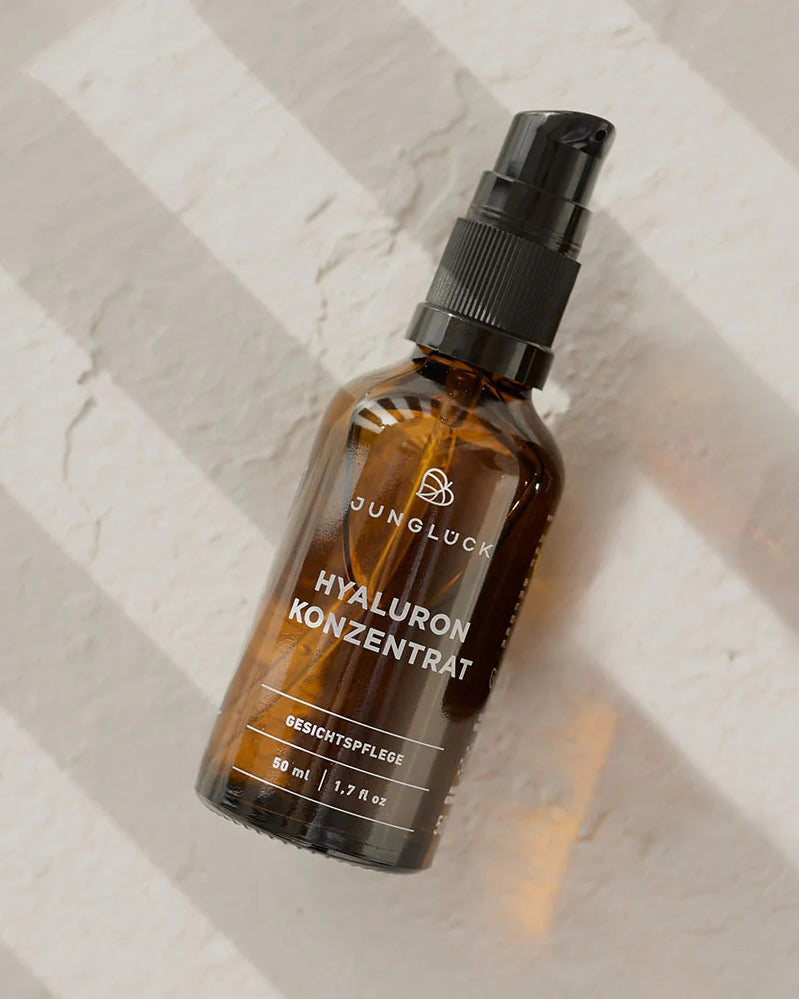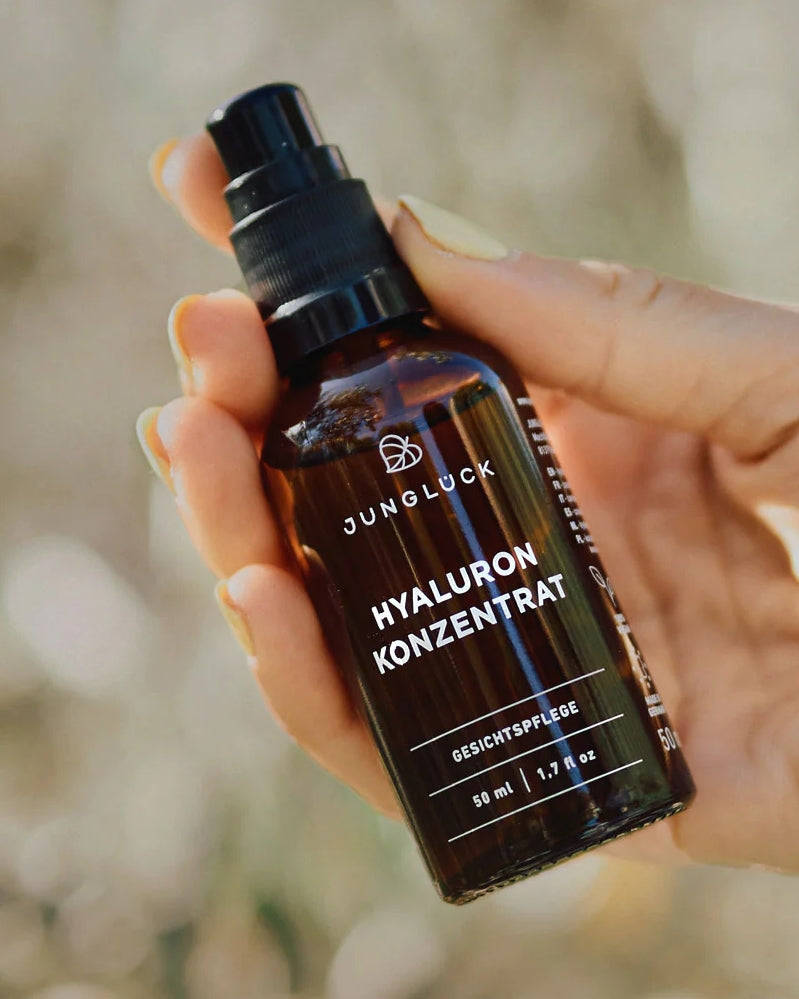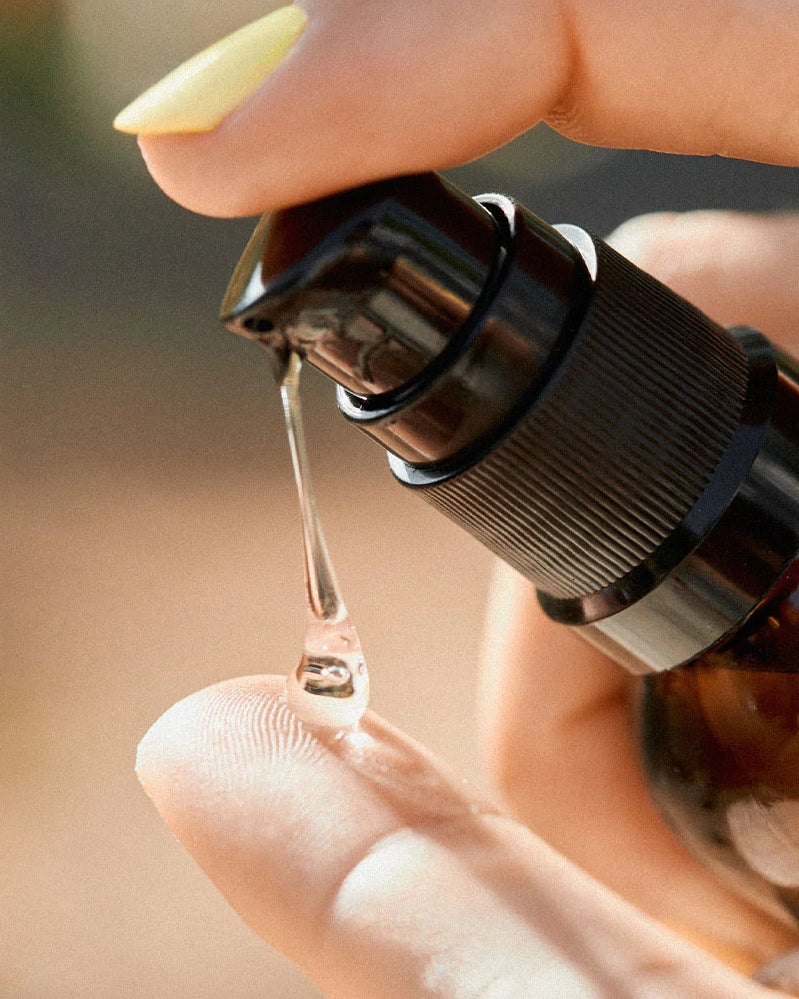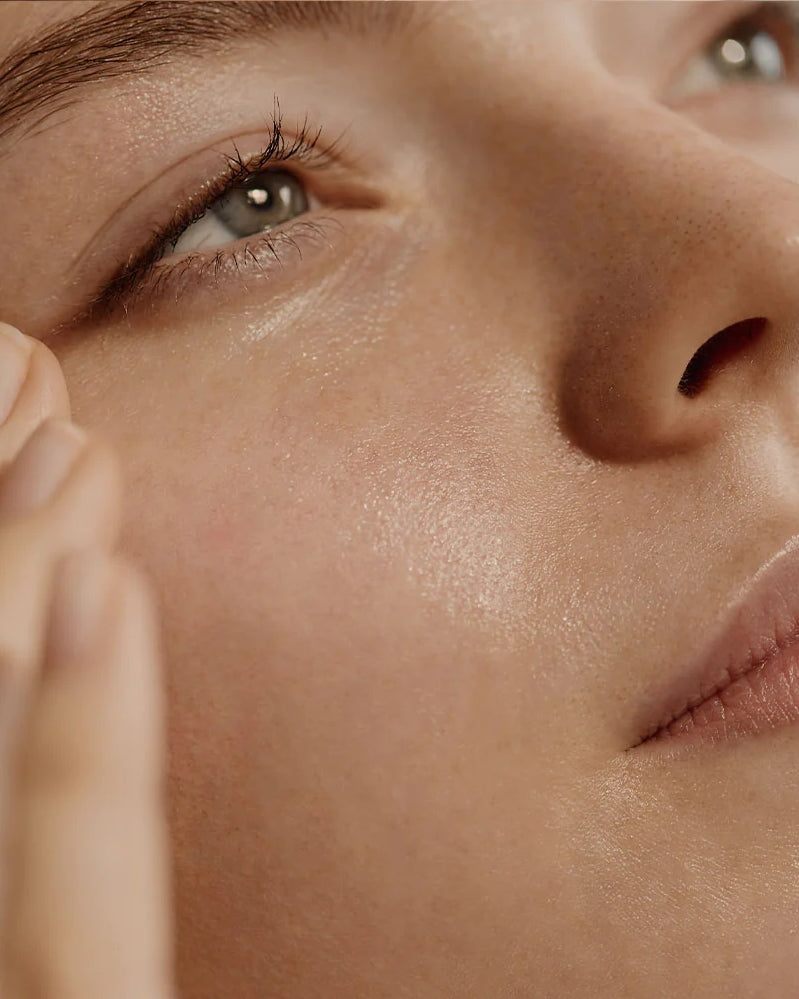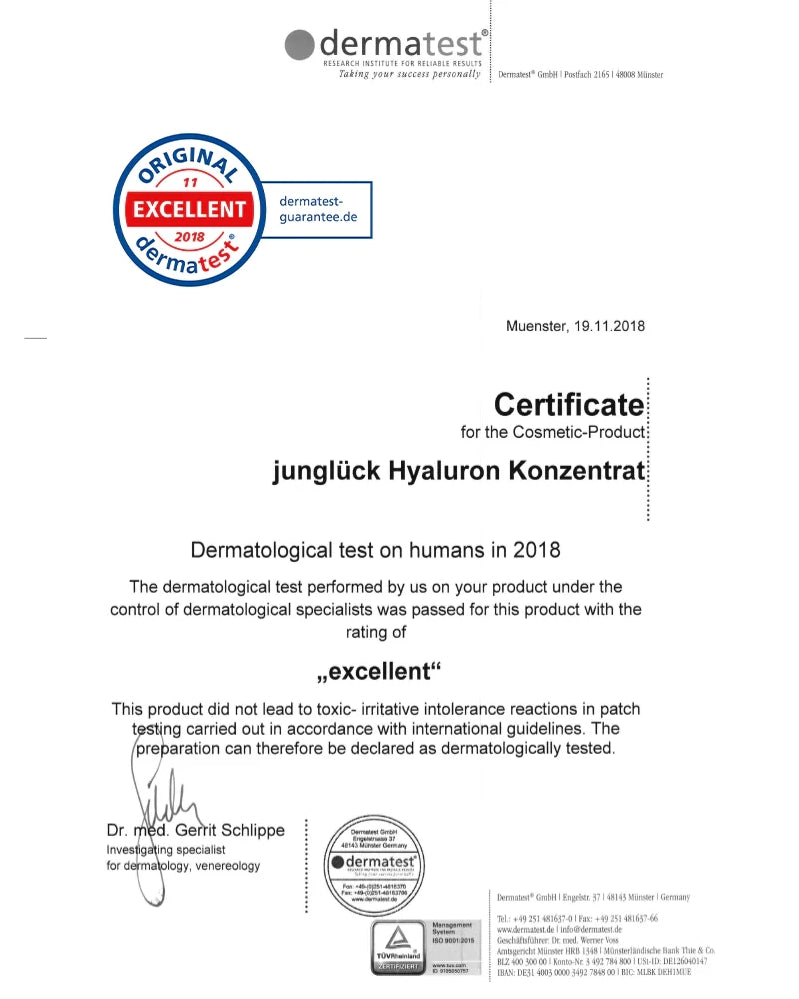 FREE SHIPPING.

Delivery is free from a certain threshold. Read more in our FAQ.

FAQ

CONTACT US

Got a question about a product or an order? Get in touch with our service team.

CONTACT US

SECURE PAYMENTS

We accept online card payment with iDEAL, Credit Cards or Paypal.

MORE INFO HERE
WANT MORE? WE'VE GOT MORE.
Regular price
Sale price
€35,00EUR
Unit price
per